Hello Loves!
Isn't it amazing how one persons sweet sentiments can change the whole vibe of your day? I was having a crap day then I came across someone (a complete stranger) that was just like a ray of sunshine. From that point on I had a smile on my face and instantly my mood was uplifted. It inspired me to be someone else rainbow in a cloudy sky. ( I think that is somewhat of a Maya Angelou quote)
So today I went to visit my booth at
A Unique House Antique Mall
. And for the first time I was actually happy to see my booth a mess. And boy was it ever a mess everything was askew, but it made me happy because that meant that there were a lot of people coming through which means a lot of sales. I only wish I enjoyed cleaning my house as much as I love cleaning my booth. Needless to say I was there all day with my lil helper so if you come to visit and happen to see batman or cat women hidden inside something you'll know why :)
Here are a few pictures I was able to snap literally while trying to catch up w/ my lil helper as he was walking down the isle to leave.
You might recognize the
Fabulous Velvet Damask Backed Chair
from my previous post if you missed it you should check it out ~
here
.
PS ~ These chairs were also FEATURED on Shades of Amber!!!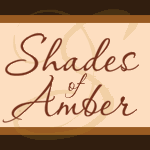 So cool I love the muted colors ~ my take on the Union Jack * painted on a vintage trunk.
I recovered 5 lampshades last night. Here is one of my favorites ~ its so Shabby Chic and sooo girly. Adorned with vintage fabric covered in big bright cabbage roses, pink and green dangling beads, eyelet and vintage pompom trim, a fabric rosette, a crochet doily and some pearlish beads.
Looks stunning on this hobnail milk glass vintage lamp! Right now I'm kinda regretting leaving this at the shop :)
The Yellow legged farm table is now on sale @ $175!!! It extends to 5 ft!
The bench handcrafted from a Ethan Allen Bed is now only $125! Painted with Miss Mustard Seeds Milk Paint on the seat and
Old Orche From ASCP
for the rest.
Those dresses are simply perfect for a little girl to play dress up with! Especially priced at around $10 each!
I'm feeling a little spring in my step! Lots of Spring Greens making its way into my booth this season.
How cool is that ~ antique baby stroller wheels mounted to a wooden tray. Love the rusty industrial wheels against the creamy white tray then embellished with vintage beaded collars and handcrafted soaps. and oh I have to mention the super cute child size mannequin.
Do you remember the
ASCP Napoleonic Dresser
from my
post LaPlata Antique show
? If you missed that post you really missed out there is a Victorian Parlor Sofa that was sold that is to die for!
Ok well there ya have it my latest booth pics
Hope you enjoyed your stay I know I enjoyed sharing my work with ya!
Oh and do you follow me on
facebook
? I usually post pictures of what I'm working on ~ if you'd like a little daily eyecandy.
Talk to ya soon,
Erica