Hello Friends
Happy New Year!
So Have ya'll been by to see
Kat's Kalamities
? If not well then your missing out.
Her Blog
is just overflowing with inspirations and creative ideas, beautiful pictures and not to mention Katheryn is one of the sweetest bloggers I know ~ Always sends kind thoughful words my way that brighten my day everytime i read one of her comments!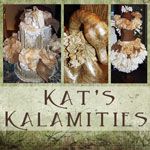 I just ohhh and ahhh'd over all of her holiday creations this year, she's so talented. One of my favorites is her rendition of the Paper Garland. If she lived closer to me i wouldv'e bought every single Garland she had but since she's in texas and im in Maryland I was left with having to make my own. But I had no idea how she put these together! And then much to my surprise i recieved an e-mail with exact instructions on how to make the Paper Garland from Katheryn herself! How incredibley awesome and so thoughtful to spend the time to send me step by step directions and to reveal all her secrets to me!! As you can imagine i couldn't wait to get started~ luckily i had all the supplies i needed so off to crafting i went!
I know Ive mentioned that i had a paper theme going on this year. I just love vintage emphaemera, I Love antique books and sheet music and can't seem to get enough of it.
I originally made these for my Holiday Decor but I'm pretty sure that they will be Incorporated in my displays year round.
Just wait till tomorrow~ I will be posting my December Booth Pics and there are some paper garlands on display that are Fabulous! Ive sprinkled those with glitter and tucked them into my Christmas Tree ~ so pretty! or if ya can't wait, I know I put a pic on my
facebook page
.
And thank you to you all for sticking around!
Erica